The benefits of cloud accounting software for business owners
Technology plays an important role in today's world and cloud accounting software is considered one of the most important. If used correctly it's one of the most valuable tools for small but growing businesses. In this blog, we've listed the benefits of adopting cloud accounting software for small business: It provides a clear picture of…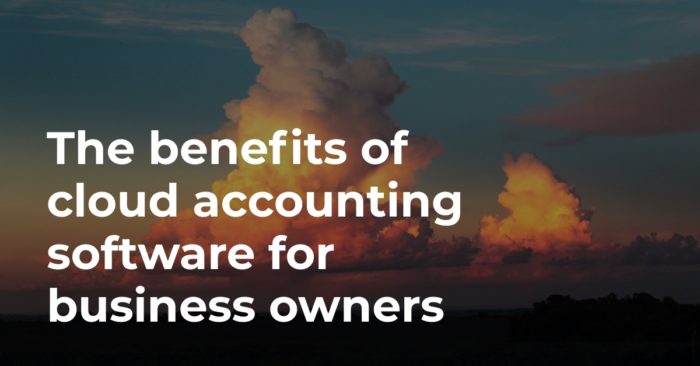 Technology plays an important role in today's world and cloud accounting software is considered one of the most important. If used correctly it's one of the most valuable tools for small but growing businesses. In this blog, we've listed the benefits of adopting cloud accounting software for small business:
It provides a clear picture of your business
The world of cloud accounting will provide you with real time views of your finances and a platform on which important business decisions can be made. It's like a financial superpower at your fingertips saving you from having to search through piles of paperwork, simply produce reports at the click of a button.
Access anytime, anywhere on any device
Anywhere there's an internet connection you'll be able to access your data, whether you be bookkeeping your expenses or sending out a new sales invoice. It helps employee collaboration ensuring anyone, in any department can access the same data in real time.
Be green, go paperless
It's always a challenge for any small business owner to keep their paper records up to date. Using cloud-based accounting software you can take pictures of every receipt on your mobile which will automatically be uploaded via our app. Receipts and invoices can be entered within the system easily. Just think about all of the paper, ink and postage stamps you wouldn't have to splash out for!
Keeps your data secure
Security of data is of prime importance for every small business. It can often be a challenge for them to secure data in such a way that it cannot become lost, hacked or encrypted. Cloud accounting software stores your data on a cloud based, encrypted server, with multiple backups ensuring your data is secure and won't be lost or become corrupt. If in any situation your computer crashes, you will still find your data saved in the cloud accounting system.
Manage your backups
If you want to backup correctly, you would need to back up on multiple devices, in multiple locations to ensure you're covered for all scenarios. Such as a theft, natural disaster, corruption or computer failure. With the use of cloud accounting technology this will no longer be a worry.You don't have to back up your files again and again as your data is completely stored in the cloud, we deal with the backups for you.
Saves time
Many businesses are still wasting their time posting and chasing invoices and keeping track of debtors manually. Cloud accounting software generates on brand invoices at the click of a button. It can also send out payment request reminders to your debtors to improve your cash flow without you having to lift a finger.
Easy to use
Cloud accounting technology makes accounting easier and manageable for small business owners who just started their business or have less experience of managing their financial accounts. Cloud accounting software is designed for small businesses making it simple enough operate yourself. However, guides and tutorials are available to help you along the way.
Easily collaborate with your accountant
Previously, small business owners contact their accountants once a year to finalise their year-end accounts but with the help of cloud accounting software, you can easily share your accounts with your accountant to work more collaboratively throughout the year, allowing them to provide you with more meaningful, proactive advice which often results in more prosperous business.
Increases the efficiency of your business
Efficiency of a small business totally depends upon their way of working. With Nomi, bank transactions can automatically be stored ready for reconciliation, bank rules can be set to automatically allocate various codes to the transactions and we have so many more time saving features. We've built these for you to utilise so you can focus on what you do best.
How Nomi cloud accounting software help small businesses?
Nomi cloud accounting software is HMRC compliant, which can help you make bookkeeping a breeze! It'll provide you with the tools you need to make financially sound business decisions with ease. Profit and loss, balance sheets, trial balances and ledger reports are available at the single click of a button. Whether you're the owner of a limited company, partnership or operating as a sole trader you can use Nomi. We offer a free mobile receipt capture app, allowing you to take pictures of receipts on the go, send invoices to clients and submit mileage claims. All of which is synced to the Nomi platform itself. Try Nomi for free for 30 days. You can also call our experts on 0203021 2326 or e-mail us at info@nomi.co.uk