Tips to Boost Accounting Productivity
Various different methodologies are adopted by small but growing practices in order to increase their productivity and improve efficiencies. There's a famous saying, "Time is money". From my perspective time is so much more valuable than money. If you have spare time, it's a fact that you'll feel less stressed and more in control. Below…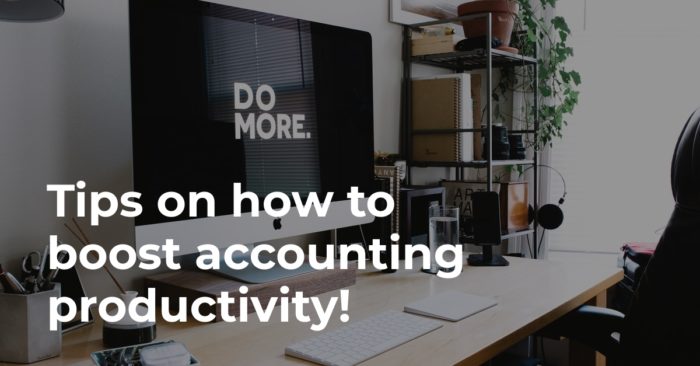 Various different methodologies are adopted by small but growing practices in order to increase their productivity and improve efficiencies. There's a famous saying, "Time is money". From my perspective time is so much more valuable than money. If you have spare time, it's a fact that you'll feel less stressed and more in control. Below we offer many tips on how to save time and increase your working productivity within an accounting practice:
Avoid or Give Less Time to Unnecessary Meetings
If you don't need to be there, avoid it, if you'd like to be kept in the loop ask for meeting notes to be made and distributed to the team. As per many studies, employees rate half of their meetings as unnecessary, unimportant and feel they shouldn't have attended. Here's a few tips for effective meetings:
Keep the number of attendees below 7, it's proven that meetings are less productive above this number
Don't send messages, e-mails or make phone calls during the meeting
Create a target to complete meetings within 15 minutes
Insist the meeting organiser circulates a meeting agenda in advance
Nominate individuals to complete each task discussed in the meeting
Reduce Multitasking
Multitasking is often considered an amazing talent where a single person can handle many tasks at once. However, going from one task to another not only diverts your attention, but also takes up to 20 minutes for the average person to refocus on a new task. It's not possible to completely eradicate multi-tasking but you should try to reduce it. Make your schedule flexible as much as possible so that different tasks can be juggled but just try to focus on a single task at a time through to completion.
Delegate Mundane Tasks
Don't waste your time on mundane tasks. It would be beneficial to delegate these to junior members of staff or admin assistants. If you find that delegating tasks to junior staff causes problems or results in mistakes, it's not a problem as long as they are learn and use it as a lesson to improve the next time around.With time they'll be a useful member of your team as they'll get better and better.
Use Technology
In today's day and age, technology is everywhere and it's becoming a necessity within most industries in order to remain competitive.  Accounting productivity can be increased by:
Utilising automated payroll systems to calculate employee salaries, tax payable and send payslips. This is a unique feature of Nomi and results in huge time savings.
Use automated invoicing systems and ensure you put together and stick to processes within your practice.
Use data capture apps to capture images of receipts in real time, some even allow you to submit mileage claims and generate/send sales invoices. On Nomi, we provide a mobile app absolutely free of charge with every package.
These three tips will assist to eliminate human error, save time and make your business more efficient, streamlined and scalable ultimately resulting in bigger profit margins.
Park Your Perfection
Small business owners always stride for perfection. Mild perfectionism is ok but too much can come in the way of productivity. Your focus must be high on excellence rather than perfection. Implement systematic processes all staff can follow with ease, rather than doing everything yourself. For example, instead of spending hours checking and reviewing the quality of staff member's work, make a systematic process to control and limit human errors as much as possible. Could it be automated in anyway at all? We'll leave that to you.
Work Out Your Best Working Hours
Make a schedule and organise your tasks so that they fall within the hours you're most productive in. Are you a night owl or a morning prowler? Figure out the time when you are more creative and when you are more relaxed and plan your tasks accordingly. For example, your creative hours may be best within the morning alongside a cup of coffee. List your creative tasks and complete them within these hours.
Take Small Power Naps
Taking a small power nap of 10-30 minutes has been proven to sharpen your mind, improve your learning ability, mathematical aptitude, logical reasoning and creative problem solving. Many of the world's greatest thinkers utilise this method to great effect. They experiment with many different methods to try and get the most out of their working days, Elon Musk used to sleep in his office!
Use More Screens
Working on a single screen and tabbing between applications and documents constantly interrupts your workflow and can lead to dramatic reduction in productivity. Using extra screens to increase multi-tasking capability is commonplace within most offices now. Contradictory to point 2 above I know. However, I mean inter-task multi-tasking, you could use one screen to update your excel working papers, whilst updating a set of accounts within Nomi on the other. Utilising a few of these points could have an extremely positive effect on your business efficiencies, we really hope they do and you see the benefits within your accounting practice or small business.