Digital Signature Software for Accountants and Bookkeepers
In the modern world of the technological revolution, different software solutions are constantly being introduced and adopted by businesses to perform their tasks more efficiently. Manual processes are becoming a thing of the past. People are shifting towards electronic or digital software for faster, more productive and almost errorless solutions for bookkeeping, accounting and payroll.…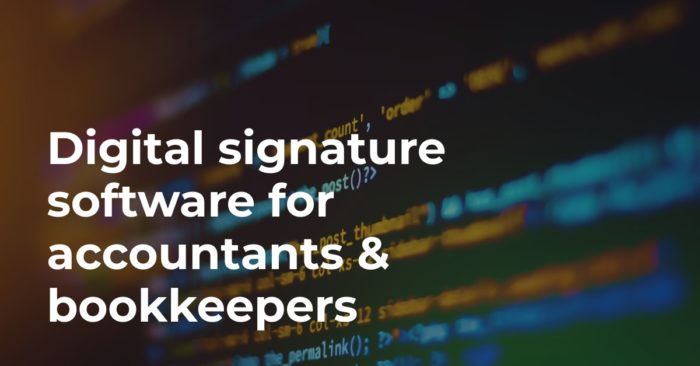 In the modern world of the technological revolution, different software solutions are constantly being introduced and adopted by businesses to perform their tasks more efficiently. Manual processes are becoming a thing of the past. People are shifting towards electronic or digital software for faster, more productive and almost errorless solutions for bookkeeping, accounting and payroll.
Putting a signature on each employment contract, engagement letter, confidentiality agreement, fee letter, and tax returns can be cumbersome and untimely, impacting the time you need to focus on other tasks. Digitally signing the document using the software can help reduce the cost involved in creating, duplication and circulation of paper documents, printing costs and maintenance involved in Xerox, printing and fax machines and time spent in the filing of paper documents.
Missing paperwork is one of the most problematic scenarios faced by accountants and bookkeepers while filing tax returns. Hence, going paperless can be an excellent method to keep documents safe and secure whilst also being environmentally friendly.
What is Digital Signature Software?
Digital signature software allows the sender to digitally sign a document using public key infrastructure (PKI) mechanisms, verified by a certificate authority.
An electronic signature is a digitalised version of the handwritten signature, which is 100% verifiable, fully legal, secure and valid. With digital signature software, users can attach an image of their signature to the document and send it to recipient/recipients in just a few clicks.
Benefits of Digital Signature Software
Complete Digital Document solution – Digital signature software provides you with full digital document solutions for accounting – it can boost your business, streamline your processes and help in performing digital transactions efficiently.
Eliminate the paper-based approach and increase your productivity – Various businesses have eliminated the paper-based approach, as it's outdated and inefficient compared to a digital process. Digitally signing a document saves so much of your time which you would spend searching and filing. The time saved could be invested in other areas, which could ultimately boost your productivity by 30-50%.
Secure signing – Data security is the topmost priority for accountants and bookkeepers as losing data can create problems in filing tax returns, leading to fines and penalties. Digital signature software protects your data and transactions against hackers and cyber-criminals. The use of an identity checker in the e-signature process can help accountants and bookkeepers quickly verify their client's identity and complete transactions efficiently.
Cost-saving – Elimination of paper-based approach and shifting towards Digital Signature Software not only saves your time but cost as well. Businesses following the paper-based process spend a considerable amount of money on paper, printing supplies, Xerox printing, fax machines, and even filing, envelopes, and storage cabinets. In contrast, with the help of digital signature software, you can quickly eliminate this cost and save a considerable chunk of money.
Remaining Compliant – Digitally signing of transactions is recognised as a legally binding procedure for almost all the document transactions performed by accountants and bookkeepers across the UK and around the world.
Fast completion of transactions improves overall customer experience – Manually checking each accounting detail, signing documents, and filing them in different storage cabinets is time consuming. Digital signatures reduce paper use, save time and make doing business with you easier!
Sign it from anywhere, anytime, and from any device – With the help of Digital Signature Software, You can easily send documents from one location to another just by signing it from anywhere, anytime, and from any device. Sign your essential documents and send them anywhere across the world just in a matter of few clicks. Just make sure you have a good internet connection!
Sending to Multiple recipients – You can also add multiple recipients in the software for signing a document. Add the recipient email IDs and change the order in which recipients need to sign the form. You can automatically or manually remind them to sign the document until the document completes its signature process. Once the document is signed, all signees will be notified, and the form stored automatically along with the track-record details and event log.
Offers mail merge facility – You can send personalised templates to recipients with the mail merge functionality. Then, the personalised document can be signed by each of the recipients separately. These documents are also stored automatically after completion.
No hassle of chasing – Set up automatic reminders to ensure no document is left unsigned and save your team from the hassle of chasing. You can even integrate your approvals, contracts and payments into the process of document signing for a fantastic workflow process.
Helps in solving workflow issues related to absenteeism – Sometimes, a deal needs to be signed on a specific date, but due to the absence of the signing authority in the office, it may not be possible to sign the document on the same date. Digital signature software solves this problem in a few minutes as an absent employee can quickly sign the form online from home or any other remote location.
How does an Electronic Signature work?
It is the easiest way to sign and send your document online. You have to upload the form, add the recipient who needs to sign it, specify the place in the record where you want the signature, hit the send button, and are done.
No registration is needed as the recipient can sign a document online from any device with the help of an Internet connection. You can also send a single form to multiple people, for which you need to add numerous signers while sending a document.
From this blog, we have given you a clear picture of what benefits will you get as an accountant with digital signature software and how can you make your work easier by eliminating the paper-based approach and shifting towards Digital Signature software.