Return to Work: Is your business compliant with COVID-Secure rules?
UK employers face many challenges during the lockdown as a result of Covid-19, which adversely affect their professional and personal lives. This pandemic has forced many business owners to close their businesses entirely, some are still able to continue it partially, whilst others are continuing operations as usual. As an employer, it's your responsibility to…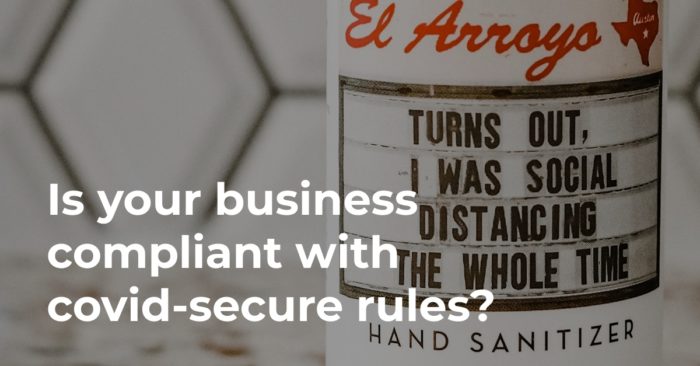 UK employers face many challenges during the lockdown as a result of Covid-19, which adversely affect their professional and personal lives. This pandemic has forced many business owners to close their businesses entirely, some are still able to continue it partially, whilst others are continuing operations as usual. As an employer, it's your responsibility to consider the restrictions, legislation and government guidance to make the workplace safe and secure for employees.
The UK is heading back into a lockdown situation. Businesses should take precautions by taking a flexible approach and plan to decide how their companies will operate during and after the lockdown, especially in the initial stages. It's only possible to make your businesses comply with the 'Covid-secure' rules in the workplace.
Before opening the workplace again, business owners should plan:
How to reopen the business, and what restrictions will be in place?
Analyse the current position of your business, and if you think that your business is still not able to cope with the situation and will take time to recover, what measures will you take to move forward successfully?
After emerging from Lockdown, what will your workplace and future workforce look like, and what issues will you face moving forward?
What steps will you take to ensure your business is financially viable after the government support stops being available.
What will be your Covid-secure guidelines to stop or minimise the spread of infection is?
Guidelines to protect staff and customers at the Workplace
It is vital to put together a plan before it's too late. Businesses should create, analyse and review their guidelines before initiating bringing staff back to the workplace. Prioritise what actions you need to take to protect your staff and customers within the workplace.
There are various guidelines and precautions issued by the UK government that must be adopted by the businesses to protect themselves, their staff and customers from Covid-19 while returning to their work.
Complete a Covid-19 risk assessment in consultation with your employees
Consult with your staff and implement the suggested measures to make your workplace covid-19 secure.
Identify what work activity or situations may increase the risk of virus transmission.
Consider those at maximum risk of Covid-19, such as employees with diseases like high blood pressure or diabetes.
Try to cover the risk as much as possible by minimising or removing the activity or situation that gives exposure to the virus.
Maintain Social distancing of 2 meters wherever possible
To adapt and adjust your employees to a new typical working environment, you must redesign the layout of your workplace by maintaining distances of 2 meters between individuals by:
Opening more Entrances and exits
Reduce face to face meetings and encourage the team to use audio calls or videoconference
Changing the seating arrangements at the workplace and break rooms
Creating one-way walk-throughs
Ask your visitors to cover their face
Employees don't need to cover their face. Still, as per the general guidelines issued by the UK government, it has been recommended that you should use face coverings indoors or where it's difficult for you to maintain social distancing. Employers should also understand and permit their employees to face coverings if they wish to wear them. Employers should not rely on face coverings and consider it as the only risk management strategy.
Increase Ventilation
Keep doors and windows open to increase the ventilation at your workplace. Check and confirm that all your ventilation systems are in running condition and provide your employees with a cleanly working environment.
Participate in the NHS test and Trace
Keep the records of staff, visitors and customers for 21 days and forward this data to NHS Test and Trace (If required)
Display an NHS QR code poster at your workplace as an alternative for "Check-in" customers and visitors to provide their contact details.
Adhere to the rules concerning General Data Protection Regulations (GDPR).
Companies in the hospitality, tourism and leisure industry must comply with the track and trace rules. Many other sectors must adhere as well; we'd highly recommend doing your research.
Keep away from people with Covid symptoms.
If you are aware of a staff member or visitor with a persistent cough, high fever or loss of smell or taste, keep away and advise them to self-isolate. As per the new law, which came into force on the 28th of September, employers must allow employees to self-isolate if needed.
Increase in Office Cleaning
To eliminate any risk of the virus, there should be a continuous cleaning process in every area at the workplace, which helps keep your staff safe and give them high morale.
Set up Hand sanitising stations at various areas of the workplace
Proper cleaning of the office, washrooms and receptions to be done every morning and evening.
Listen to any concerns of your employees and take action.
Clean surfaces more often.
Ask your staff to make use of sanitisers while washing their hands.
Arrange workplaces to keep staff apart
Arrange workspaces so that staff are less at risk of spreading the virus. Make use of barriers to separate the team and consider back-to-back or side-by-side seating.
Communicate and train
Train and advise your staff to remain up to date with the safety measures. Check whether they are regularly complying and identify if any gaps need filling. Remain in contact with a doctor or medical attendant to take care of the staff members in case of an emergency.
Mental health on return from Lockdown
Many people working from home face mental health issues and may wish to return to their workplaces to communicate with their colleagues. In contrast, some find it risky and may feel comfortable working from home to protect the NHS. To handle such issues, employers should develop a clear communication plan for those struggling to manage their workplace return and try to help them come out of this phase safely.
Planning for future disruptions
As the coronavirus pandemic is still ongoing. Employees should continue to take every measure suggested by the UK government:
Identify the critical roles to your business and what steps will you take to maintain them?
Take extra care of pregnant women, individuals over the age of 70 or those who have already been issued a letter from NHS at the starting phase of the pandemic. Adjust them by permitting working from home; ensure that all protective measures are taken when travelling between home, office, and home.
Identify how can you maintain a minimum safe level for workers even in the worst-case scenario.
Plan to extend staff working from home for a more extended period.
Plan to allow working from home for sick leave or vulnerable and shielding staff.
Support the staff who are keen on returning to their workplace or still want to extend their working period from home.