Why advertising openness to clients is necessary
Having often experienced homophobia, Jonathan Davies reaches out to LGBT+ accountants and business owners fearing the reception they might receive once if their orientation is revealed. I never came out to my parents. They were both born in the '20s in small Welsh communities and were quite old fashioned. I have a feeling they knew though…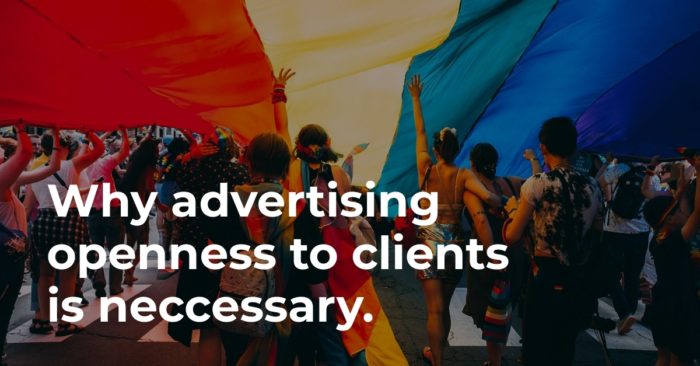 Having often experienced homophobia, Jonathan Davies reaches out to LGBT+ accountants and business owners fearing the reception they might receive once if their orientation is revealed.
I never came out to my parents. They were both born in the '20s in small Welsh communities and were quite old fashioned. I have a feeling they knew though as I would get the silent treatment for weeks if they had rung the house and another man answered (my boyfriend).
In 1993, I was attacked by a so-called friend when we shared a twin room on a motorsport weekend away. I was left with a battered face and cracked ribs. I had to explain it off as a fall rather than tell people it was a homophobic attack.
It was on my 21st birthday that I came out to colleagues after many drinks in the pub after work. Not one of those colleagues had an issue with it. The only person uncomfortable was one of the bosses who called me into his office the following day. He asked me if I was sure and suggested counselling.
I stuck with the company until the attack took place and I turned up for work with a damaged face and cracked ribs. The attack had come from someone I had not long met but had trusted.
The acceptance of colleagues lulled me into believing that everyone would be the same – instantly accepting my sexuality from day one. From that day on, no new friend ever found out about my sexuality until they got to know me first.
Over the years I've encountered homophonic remarks on the phone and in person. I've asked tradesmen to the house for quotes to do work and had them walk out saying they would rather not work for "a queer" and "dirty money".
I've had others complete a job, only to find out later that I've been charged a lot more because of my sexuality. Some have turned up to start a one-man job but then called in another for "protection".
And sadly it still goes today. I had a tradesman come a couple of months ago to quote a gardening job for me. He was fine at the door but as I took him through the living room to the garden, I introduced my husband who was working there. The guy's cheerful demeanour vanished and he was hostile from then on. He didn't get the job.
Those experiences are why I present my business as one where anyone in the LGBTQ community needing bookkeeping and accounting services can be confident of professional advice without attitude or bigotry.
I did consider whether it would alienate straight potential clients, but I was backed by my friends and family.
My accounting software also backed me. Nomi has provided incredible support – both in using the software but also with advice.
I asked one of their developers if he thought I was doing the right thing advertising the business as LGBTQ friendly and his words were:
"On the LGBTQ front, I would say embrace it! It's you as a person, so I would say include it within your brand front and centre and attract the type of clientele you want to work with. Your ideal clients! Yes, it may frighten some people off but I would suggest you probably wouldn't enjoy or want to work with them anyway!" And it was he who suggested sharing my story on AccountingWEB for Pride.
And it goes both ways. I make sure that I have the time to look after each client to the best of my ability and treat everyone with the professional courtesy and respect they deserve.
I want every client to feel comfortable and safe.
Why should I advertise as an LGBT+ friendly business?
Don't be afraid to advertise it if you can offer support to LGBT+ people. You don't need to be LGBT yourself – just tolerant and accepting of those who are and who need their services. There is still a lot of members of the LGBT+ community who, even in this 'enlightened tolerant age', find themselves on the receiving end of homophobic comments and actions from businesses they approach.
These people often actively seek 'gay-friendly' businesses to feel safe with the person they will be dealing with. That can be from personal recommendations, review sites, or the business website, so it is important to get that message across at the first point of contact – your website.
To the majority, that notice makes no difference. To those in the community who dread being treated differently, it can make a real difference.