What kind of Nomi practice are you?
Why does it matter? It's been a busy year so far at Nomi. Even though we've been around for a number of years, the pace of change in the last 12 months has been staggering. It feels like we are coming of age. Nomi has long been a firm choice for early-stage practitioners, but in…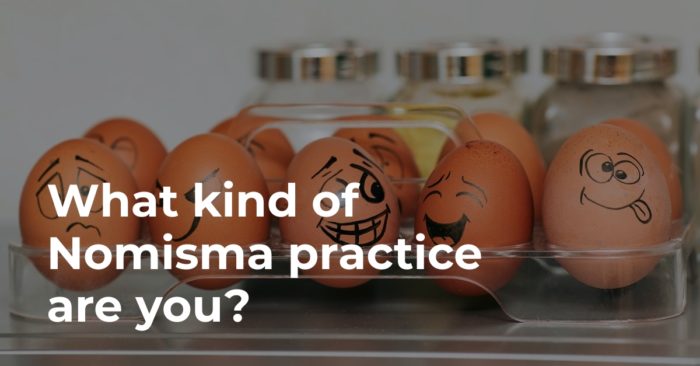 Why does it matter?
It's been a busy year so far at Nomi. Even though we've been around for a number of years, the pace of change in the last 12 months has been staggering. It feels like we are coming of age.
Nomi has long been a firm choice for early-stage practitioners, but in recent times we have found more and more established practices showing interest in Nomisma and partnering with us.
We want to reflect that in our communications both to existing customers and prospective ones.
The smallest post-pandemic self-starter and more rooted practices all have much to gain from Nomi and that's the feedback we are getting. The core benefits are the same, but the peripheral focus and circumstances are very different.
A start-up will be thinking about finding their first few clients, setting systems in place, establishing processes and will only have to organise themselves and handful of clients in the short-term. They can come to a decision on themselves and can usually move quickly without any legacy systems to migrate from.
A more established firm may be more concerned with managing dozens, hundreds or even thousands of clients and possibly many staff. They are likely to have systems and processes they either wish to work around or need to see a good case to change. Migration of historical data and implementation will need some planning, consideration and help. Existing contracts may need to be run out, and occasionally have draconian notice periods that went unnoticed in the enthusiasm of their original rollout years before!
In short, the issues, concerns and ambitions that will resonate with each group will differ and covering both in the same content necessitates a compromise that is optimised for neither. You either risk 'teaching Grandma to suck eggs' or leaping too far ahead of what they need at that point.
What are we doing to help?
As a result, we are working on our website and business messaging to talk specifically to both distinct groups and steer them more swiftly towards the relevant content and presentations. These will allow them to optimise their use of Nomi and determine whether it is right for them at the outset. This will take a while to wash through, but we thought it may be helpful to share the concept in advance here.
To help signpost, we have tried to define two indicative groupings. Of course, every business is different, and a single practice will rarely fit neatly into any pigeonhole, perhaps dipping into both areas to meet their need. Nonetheless, our hope is to provide most of the content that a customer needs in one location to save them time.
Are you a Nomi Start-up?
Firstly, as a 'Nomi Start-up', maybe you are just qualifying, maybe you are qualified by experience, maybe you're an old hand looking to go solo and build something for yourself. Perhaps it is just a part-time thing for now to test the waters or perhaps you are setting off on a plan to take over the world.
Odds on, it's just you and will be for a while till you clock up a body of clients, if at all. Either way, cashflow is king and you can't afford a King's ransom to be spent on software. You don't mind paying for a quality service, but only as you use it and as the fees come in to cover it.
Even though you don't have money to burn, you still want a proper tool that will help you build your firm and not prove inadequate once you have more than a handful of clients.
You need something to give you an edge of other new practices competing for the same clients.
Or a Nomi Growth Practice?
As a 'Nomi Growth practice' you are already in your stride but have much more to do. Maybe you're breaking into the hundreds or low thousands of clients, either with a small team or about to take that plunge.
You are acutely aware of maximising the client count and fee base each person can handle and need a tool you can trust others with as well as giving you easy visibility of the work everyone has on their plates.
Perhaps you are already doing handsomely by the standards of others. You're already running the size of firm that most would love to reach, and many would put their feet up and coast along at that level. But you want more. More growth, more efficiency, and the security and lifestyle that come with that success.
It could be you feel you are working harder and longer but not keeping any more for yourself?
You might believe your firm has plateaued and you need a tool that can take you to the next level, and beyond. Something to give you a real gear shift.
All that said, you might have had mixed past experiences with software, perhaps paying good money for promises that somehow never translated to real-world gains. This time you won't be distracted by whistles and bells that don't actually impact productivity… and yet you still pay for!
Either or neither, we're here for you
Like we say, you don't need to be one or the other. You could be both or neither, but if one sounds more like your practice right now and reflects your ambitions, then you can cut straight to the heart of what Nomi could do for you.
Out of interest, we also considered having a grouping of 'Nomi Top 100 contender'! That might sound a bit of a stretch if you are just starting out, but, who knows, perhaps if you start with that mindset, it could describe you in a couple of years. Wherever you are on your practice journey, we believe we can help, and we'd love to talk to you.