Nomi Product Update – 03/07/2023
Hello Nomi users! It's Monday and time for your weekly dose of product updates. We've been working hard to make Nomi more efficient and user-friendly, and we're excited to share the latest improvements and new features with you. Updates Here's what's new in Nomi this week: 7705 – Bookkeeping – Find & Match foreign…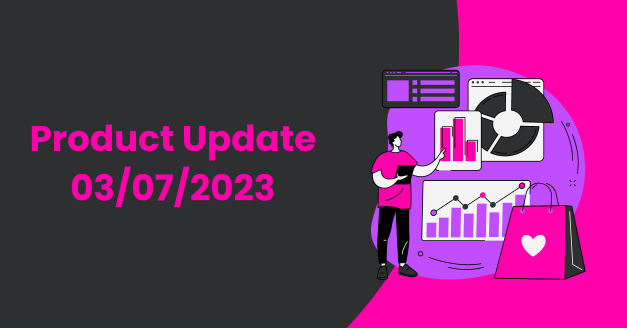 Hello Nomi users! It's Monday and time for your weekly dose of product updates. We've been working hard to make Nomi more efficient and user-friendly, and we're excited to share the latest improvements and new features with you.
Updates
Here's what's new in Nomi this week:
7705 – Bookkeeping – Find & Match foreign currencies improvement: We've improved the foreign currency aspects of the find & match functionality. When reconciling GBP bank transactions to EUR or any other currency invoices/supplier bills, the invoice/supplier bill will be converted to the base currency, in this example, GBP. If both the bank and supplier bill are the same currency, no conversion will be performed.
6833 – Payroll – Rehire former employees: Within the payroll module you can now select 'rehire' in relation to former employees. This will copy the employee details to a new employee record and allow you to edit prior to saving.

6689 – Self Assessment – Bring forward data from previous tax year: More data will now be brought forward from the previous tax year's self-assessment, for example:
Interest: Bank account name
Dividends: Company name
Employment: Employment name, PAYE ref, company director (except if cease directorship is ticked) and close company.
Partnerships: All partnership details and losses brought forward
Capital gains: Losses brought forward
Foreign income: Losses brought forward
Other: Bank details for repayment, repayment method (BACs or cheque), payments on account
8452 – Bookkeeping – Expense reimbursement user experience improvements: We've improved the flow of entering and saving the form and introduced new validations to avoid the entry of invalid data.
7126 – Bookkeeping – Bulk actions within 'Unreconciled Bank Transactions': You can now perform the following actions in bulk:
Allocate nominal code
Allocate VAT rate
Delete

Simply select as many transactions that you would like to update, then in the top right corner of your screen you should see a menu button labelled 'Bulk'. Upon hover, you'll be able to see the actions you can take. We anticipate that this could save a lot of time during the bank reconciliation process.
6818 – Bookkeeping – Improvements to nominal codes during trial balance import process: We've updated our code so that when importing a trial balance, Nomi will now look at the 'Nominal Code' and 'Account Name' column in order to determine which nominal code to select on the confirmation page. Where Nomi uses a grouped nominal code system, many codes could be the same. This was causing users issues previously as Nomi didn't take into account the varying 'Account Names' during the import process.
8486 – Self Assessment – Increased length of nominee repayment physical address: The character limit was previously set at 42, this is now 84 allowing for the entry of longer addresses.
8709 – Payroll – Populate pension contribution % automatically and validations for entries below the contribution %: We've improved the process so that when a pension scheme is setup with pension contribution percentages and an employee is added to the pension scheme within Nomi, the scheme's percentages will now update the employee profile automatically. They will still be editable, so you can update if needed.
Validation messages have also been added to the system, so if you are updating contributions manually, you'll now be warned if the amount entered is below the employee's agreed contribution percentages.
8857 – Final Accounts – Correction of spelling 'Directorsss' within 'AAT' accountant report: The spelling of 'Directorsss' has now been updated to 'Directors' within the report.
7086 – Bookkeeping – Ability to bulk delete sales invoices and supplier bills: By selecting the checkbox on the left in relation to multiple entries, you'll now be able to select the bin icon in the top right corner of the table in order to delete entries in bulk.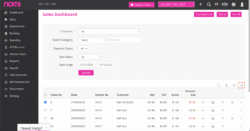 8861 – Payroll – Added BACs file downloadable in .TXT format: More bank accounts formats will be added in the future, at the moment it supports the 'Bank of Scotland' format, which could also be suitable for other bank accounts but we aren't certain which ones.

7192 – Bookkeeping – 'New Customer' improved user interface and experience: When adding a new customer, many of the fields used to be hidden behind a '+More' button. We've now updated the 'New Customer' interface to be much more friendly, with a left sub-menu and a cleaner, easy-to-navigate presentation.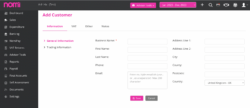 7169 – Bookkeeping – When selecting 'New Supplier Bill' the 'Bill No' field should be active: We've improved the user experience by ensuring the 'Bill No' field is selected when the page loads, allowing the user to immediately begin typing without having to click into the field.
8559 – Agent Hub – New client creation from Companies House, only fetch 'Active Directors' and obtain 'Start Date': During the new client creation, Nomi will now only store 'Active Directors' within the bookkeeping profile. It will also obtain the start data from Companies House.
8484 – Self Assessment – File names of downloaded documents: Previously, Nomi would generate a random file name for the documents that are downloaded from the self-assessment module. Now, Nomi will generate a name that makes sense, for example 'SA Forms 2022-23'.
8692 – Agent Hub – Issue with assigning a client to a business user during user creation process: The issue resulted in not being able to assign a client, this is now fixed and functioning as normal.
Highlight of the Week
Every week, we'll spotlight a feature or update that we believe can make a significant difference in your workflow. This week's highlight is:
NomiPay: The faster way to get paid. You can now request and receive payment via debit/credit card, Apple Pay and open banking, all via a simple 'Pay Now' button on your sales invoices and directly within your emails. There's no monthly subscription to use NomiPay, simply enable and then pay-as-you-go at reasonable rates.
See NomiPay in action here: https://youtu.be/f8TktaFKZS8
Looking Ahead
We're always looking to the future, and here's what's on our radar for the coming weeks:
Our focus is on user experience and stability. That means we're still focusing on reducing bugs, improving speed and making small tweaks to the software that you, the user, are requesting. Thank you all for your feedback recently, it's really helping us move Nomi forward.
Feedback
Your feedback helps shape the future of Nomi. If you have any suggestions or comments on these updates or anything else, please feel free to reach out. You can contact us at support@nomi.co.uk or join our Facebook community.
That's all for this week! Remember to check back next Monday for more product updates. Until then, hope you have a great week!
Stay connected! Follow us on @NomiSuite for the latest Nomi news and updates.
Facebook: https://www.facebook.com/nomisuite/
LinkedIn: https://www.linkedin.com/company/nomisuite
Instagram: https://www.instagram.com/nomisuite/
Twitter: https://twitter.com/NomiSuite