Nomi Product Update – 10/07/2023
Hello Nomi users! It's time for your weekly dose of product updates. We've been working hard to make Nomi more efficient and user-friendly, and we're excited to share the latest improvements and new features with you. Updates Here's what's new in Nomi this week: 8904 – Bookkeeping – Performance of 'New Supplier Bill': We've worked…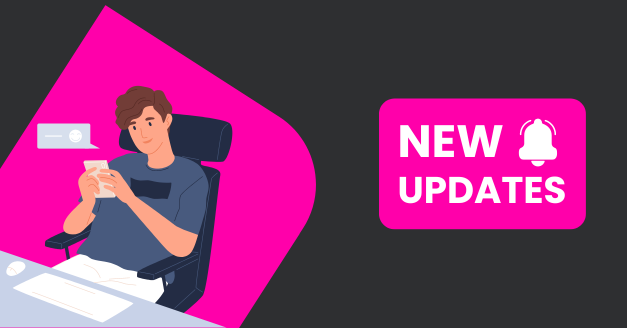 Hello Nomi users! It's time for your weekly dose of product updates. We've been working hard to make Nomi more efficient and user-friendly, and we're excited to share the latest improvements and new features with you.
Updates
Here's what's new in Nomi this week:
8904 – Bookkeeping – Performance of 'New Supplier Bill': We've worked on streamlining our code so that the 'New Supplier Bill' process should be faster during use. We're now working on the 'Refreshing' issue when you switch between fields.
8855 – Final Accounts – Dormant period longer than 365 days, CT600 PDF date correction: When producing the accounts as a PDF file in this scenario, the dates were incorrect we've now fixed this issue.
8873 – Bookkeeping – Restriction to character limit within the 'Note' field on sales invoices: Due to formatting issues on the PDF, we've implemented a character limit on the invoice, restricting users to a count of 500 characters.
7724 – CIS – New 'Name' filter added to reports: The new filter allows you to filter by as many or as few subcontractors as you choose.
8680 – Bookkeeping – New validations added to reduce number of VAT related errors: We've implemented various new validations to combat potential errors when producing VAT returns. These are all around the setup of VAT within Nomi in settings such as:
By entering a VAT de-registration date, it'll stop the ability to create new VAT returns dated after the de-registration date
The VAT registration date cannot be dated before the company registration date
VAT registration date cannot be dated after the first VAT return period start date
When creating a VAT return, it'll return an error if the VAT return start date is dated before the VAT registration date
When creating a VAT return, it'll return an error if the VAT return start/end date is dated after the VAT de-registration date
When submitted a VAT return, Nomi will check that the VAT MTD settings are valid and return an error if not
8774 – Payroll – Employer view, improve UI of expense management page: We improved the user interface of the expense management page to make it easier to use and understand for employers when approving or declining employee expenses.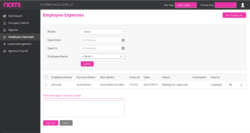 8502 – Self-assessment – Ability to select the starting tax year when importing clients: When importing new self-assessment clients, you can now select which tax year they should start from within Nomi. If no tax year is entered, they will start from the current tax year by default.
Highlight of the Week
Every week, we'll spotlight a feature or update that we believe can make a significant difference in your workflow. This week's highlight is:
Nomi Payroll – Expense Management: With the release of expense management, your clients can now collaborate with their employees to allow the requesting, approval, and declining of employee expenses. This new functionality brings an exciting new dimension to payroll software and makes the process of running payroll a lot more seamless.
See it in action here: Video coming soon
Looking Ahead
We're always looking to the future, and here's what's on our radar for the coming weeks:
Our focus is on user experience and stability. That means we're still focusing on reducing bugs, improving speed and making small tweaks to the software that you, the user, are requesting. Thank you all for your feedback recently, it's really helping us move Nomi forward.
Feedback
Your feedback helps shape the future of Nomi. If you have any suggestions or comments on these updates or anything else, please feel free to reach out. You can contact us at support@nomi.co.uk or join our Facebook community.
That's all for this week! Remember to check back next Monday for more product updates. Until then, hope you have a great week!
Stay connected! Follow us on @NomiSuite for the latest Nomi news and updates.
Facebook: https://www.facebook.com/nomisuite/
LinkedIn: https://www.linkedin.com/company/nomisuite
Instagram: https://www.instagram.com/nomisuite/
Twitter: https://twitter.com/NomiSuite